Every design project gets to the "what have we done!?" phase, and this week that's us. Week 2 of my Fall 2020 One Room Challenge home office makeover is going pretty much as I expected – it has to get worse before it gets better. If you've been following along on Instagram, you've seen the demolition progress and peaks into my plans. Today I'm sharing all the details about THE FULL DESIGN PLAN. Ever since I finished my primary bedroom makeover, I've wanted to keep experimenting and introducing color into my designs. Keep reading to see all the details!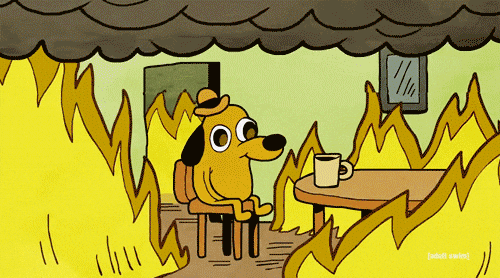 GET CAUGHT UP
If you clicked through from the ORC site, howdy! I'm Shaun Crha (sir-ha), an interior designer in Long Beach, CA. Check out my previous One Room Challenges for my laundry room and primary bedroom renovations. My husband, Sean, and I are currently updating our 1930 Spanish bungalow – the Crhacienda! We've already finished the following spaces: our dining room, laundry room, front garden, our bedroom, and a completely new guest house (the Casita). Thank you for joining us as we tackle my home office! If you're trying to catch up on everything be sure to visit my Week 1 post (before pictures, inspiration, and moodboard). 
THE NEW LAYOUT
I'm demolishing BOTH of the closets in this room because they eat up 40 square feet of much needed space. Yes, you technically need a closet to consider this a bedroom, but this is our forever home and we're not worried about selling it. If it ever came to pass that there needed to be a closet in the room we could put one back. For now – I need that space! The closets made the room feel choppy and broken up and removing them will create a softer transition between the main office zone and the creative office zone.
The picture below was taken standing in the doorway from the hall and you can see the outline of the old closet on the ceiling and floor. Just look at how much of the window was blocked! That's insane. Our IKEA Farlov sofa is riding out the next 5 weeks in the room covered in plastic. We'd have to remove the arms to get it out of the room, and we don't really have anywhere to store it anyway.
MY DESK + PODCAST STATION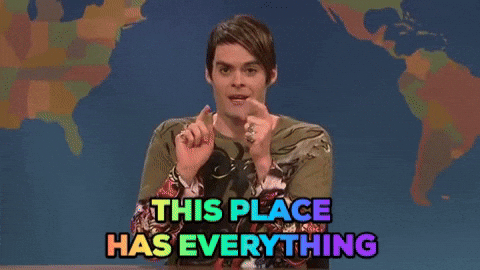 A floating desk top, a file cabinet, a desk drawer, a microphone stand, floating shelves, acoustic wall panels, art, an ergonomic chair, cable control – this list keeps going!
I tried to convince myself that a creative mind thrives in mess, but it goes against the grain of my being. So even though the room started as a mess, I promise you it will not end this way. I want to create a visually stimulating place to work every day starting with a statement making desk area. Instead of being locked into an odd corner, I'm putting in a barrel vault above the new desk inspired by Studio Shamshiri. I've got some great enhancements planned for this area to make it super functional for both Wrensted Interiors and Hot Young Designers Club podcast.
THE CREATIVE WORKING SPACE
Meanwhile, on the other side of the room there was a perfectly nice family room/den area that I wanted to amp up on the design front. It just didn't have the personality I wanted it to as I start leaning away from neutrals everywhere. I had it shot once after it's first makeover, but it's going to be so much better after this round. I'm going to slipcover the sofa in something more vibrant, bring in a custom ottoman with some color and pattern, and upgrade the lighting and art situation.
THE WORKSTATION
I can't wait to organize this former closet space into my new office printer and presentation workstation. I've got big plans for how to utilize this spot better including upper cabinets with closed storage, base cabinets with file storage, and a decent counter with a spot for my printer. It'll be so nice to have space for supplies and sample storage. As my business grows this will give me some extra space to grow into. Does anyone else get excited about organization?
THIS POST IS STILL IN PROGRESS, CHECK BACK FOR MORE UPDATES
THANK YOU TO MY PARTNERS
I'm working with some incredible sponsors and partners for this room and I owe them a huge thank you for making this project possible. DISCLAIMER: Wrensted Interiors contains some contextual affiliate links. I only recommend products or services I use personally and feel my readers will enjoy. All opinions are 100% mine.
DISCLAIMER: Wrensted Interiors contains some contextual affiliate links. I only recommend products or services I use personally and feel my readers will enjoy. All opinions are 100% mine.