Real talk, I think most Fall decorating looks tacky. But since it's officially Autumn I want to refresh some parts of my home to help ease into the holidays. Am I putting a lot of pressure on a season to help lift my spirits? Yeah, probably. While it's not quite time for sweaters and hot cocoa in Southern California, I'm still looking forward to cooler temps, layered looks, and cozy movie nights. Since most of us are still experiencing varying degrees of social distancing and lockdown, I'm anticipating a bigger need to nest this Fall. I usually struggle with over-the-top seasonal decorating, so I wanted to share some of my favorite tasteful Fall decorating ideas with you.
One of the tricks to making seasonal decorating look great is to coordinate it with your existing color scheme. I find that neutral accessories make this much easier to accomplish, but if you've got a solid color scheme in your house already try using that as a jumping off point. The goal is to make your seasonal decorations look like an extension of your home, not something you just threw on top. Pro tip: you can do it without pumpkins and puritans!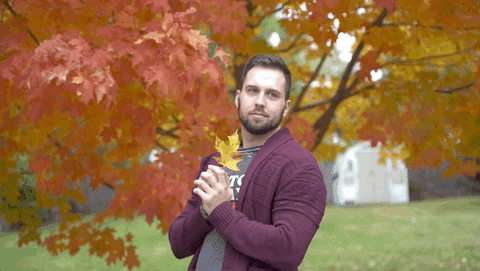 MAGNOLIA LEAVES
I love the copper-colored underside of magnolia leaves to add some warmth to a room for Autumn. They're elevated, but still relaxed and offer up a new (less literal) approach to tasteful Fall decorating. They work great on a mantle or over a doorway and as they dry out, they're also less mess compared to most natural garlands (read: pine needles everywhere). If you're not interested in DIY or you don't have a flower district near you, you can order magnolia garlands from your local florists. Stores like Williams Sonoma sell them fresh too, and if you're looking for one that can last you through the years try some artificial options like this one.
WHEAT WREATH
Are you ready for a more modern take on the traditional front door wreath? This preserved wheat wreath will give you just what you're looking for. It's a perfect nod to harvest time without being over the top and covered in miniature plastic pumpkins. We don't need to cover things with bats and witches to remind us that it's Fall! In fact, you could put this up right now and it would see you through Thanksgiving. That's about as timeless as Fall decorating gets.
THROW BLANKETS
Cooler nights means more cuddling which means time to bust out the throw blankets! Heavier quilts on your beds or warm wool throws on your sofa are great during the Autumn months. They can also help bring in some pattern and texture without distracting from the existing design of your home. Classic plaid patterns work great in the Autumn, like this one from the Citizenry. If you've never felt how soft alpaca wool can be, you won't be disappointed.
INTERESTING TAPER CANDLES
There's no faster way to create hygge and romance than candelight, so it's time to up your candle game in the Fall. Instead of your standard white taper, try bringing in some natural beeswax candles in warm Autumnal colors or add visual interest with a twisted taper. For me, this is when my hoarding habit comes out. I can finally bring out my collection of brass candle sticks.
BRASS CANDLESTICKS
The perfect pairing to those colorful and interesting taper candles is to match it with brass candlesticks. Whether they're new, or you've collected some vintage ones (btw – they're usually super cheap at thrift stores and flea markets) they'll add the right amount of warmth and brilliance during the Autumn. Try mixing and matching different styles, like these from Pottery Barn to get that vintage look.
TEXTURED DETAILS
Try adding some extra texture to your spaces with these wood beads. They made a great accent inside bowls on coffee tables, strung through the magnolia garlands, or even swagged across open shelves in your kitchen. These are a great neutral accent in the unfinished wood color and they can bridge the divide between farmhouse, global, bohemian, and coastal decor. These are a go-to styling item for many designers because of their adaptability and they're sure to see you through several seasons.
SEASONAL FRUIT
Finally, this is probably one of the easiest ways to decorate for Fall and you can enjoy something new throughout the season! Each week I try to pick up seasonal fruit from the farmers market or my grocery store. You don't just have to use pumpkins when putting out your Halloween decorations. So while you get to eat these beautiful fruits through the week you also get to add seasonal color to your dining table or kitchen island. Pop them in your favorite bowl and bam! – Instant Fall! Here are my favorites: pears, apples, persimmons, figs, and pomegranates.
So there you have it! A classic, timeless, and pumpkin-free approach to Fall decorating.
SHOP THIS POST

DISCLAIMER: Wrensted Interiors contains some contextual affiliate links. I only recommend products or services I use personally and feel my readers will enjoy. All opinions are 100% mine.